Living in Oklahoma and being a Duke fan presents me with a certain set of challenges. On the one hand, in the minds of most Oklahomans, since I live here, I should be rooting for Oklahoma or Oklahoma State. Since I don't, I'm branded somewhat of a traitor and an outcast, and occasionally have things hurled at my head while people chant rude things like "Y'all are stupid for rootin' for them Dukes." Then on the other hand, since I don't live in the state of North by God Carolina, I'm treated by many Duke fans as "substandard," and they wonder how I can root for a team in a state I've never lived in, or even been to.
But this is not a discussion on my woes as one of six Blue Devil fans in the state of Oklahoma. This is a list of the reasons most people in Oklahoma will be rooting for the Tar Heels on Wednesday night. I would go so far as to say 85% of this article is 100% fact, which is actually a whole lot higher than anything else I've written here. That said, let's dive in.
5. Oklahoma is in the Bible Belt and Duke has a Devil mascot — "I don't like Duke because they're the Devils." I've heard those words come out of the mouths of several little old ladies. I'm not sure how people feel about that out there in North Carolina, but in Oklahoma it's costing Duke fans. Should there be a mascot change? If so, I'd like to throw the "Duke Objects That Don't Represent Eternal Damnation" into the ring. I think something like that would obliterate a few of the fears held by some of the aging demographic in Oklahoma.
---
4. "I hate teams that win all the time" — If you're a UNC fan, you can take comfort in the fact that people in Oklahoma root for you over Duke because your team is terrible and loses a lot. That's a direct quote from the mouths of Oklahomans; I'm not making that up. Here's the dilemma though. In order for this logic to work, the team they're rooting for has to lose. You explain that to me, and I'll bestow upon you the official title of Dr. Duke Report, which Jim has no power to give because I just made it up. (Editor's note: You have no authority to giveaway such titles Travis.)
---
3. "I hate Christian Laettner" — Apparently sometime during the game where Laettner hit The Shot, he also may or may not have stomped a dude's chest cavity in. I've seen the game film, and it totally looks like an accident to me. You know how sometimes you lose your footing and you have to stomp down really hard to make sure there is ground under you? The Laettner stomp was a textbook case of that. But when you do that and there's a guy under you from Kentucky it makes Oklahomans mad because they went to Kentucky once and saw a horserace so they root for Kentucky and mint juleps. To UNC, I say take those fans because Duke doesn't need them.
---
2. "Roy Williams used to coach for Kansas" — I can't say a cotton-picking word about liking a team outside of your state, and I won't. In fact, a lot of people would argue that rooting for Kansas makes more sense because Kansas is right above Oklahoma. So naturally in the Sooner State we have a lot of Jayhawk lovers. Since Ol' Roy coached the Jayhawks until 2003, they love him dearly and wish him the best. I can't say I disagree with this logic, it's the primary reason I root for the Celtics on occasion. I like Brad Stevens, I think he's adorable and I hope he's successful. If I had to pick a reason that made the remotest amount of sense, this would be the one.
---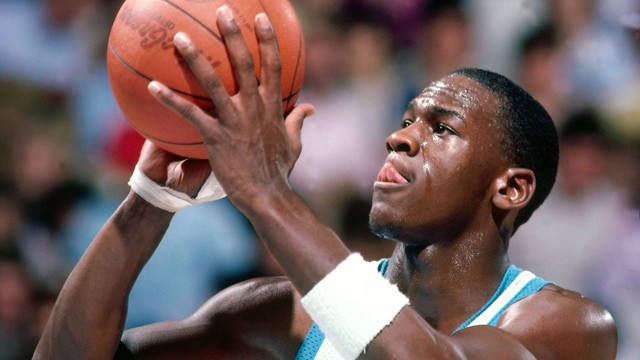 1. "Michael Jordan played for North Carolina" — This is the greatest. This is just the kind of comment that immediately makes me stop talking to someone and stare at their mouth hole in anticipation of an actual physical abnormality displaying itself; one that makes them say really dumb things all the time. And before you look up from your computer and shake your head and say "Travis is a liar, there's no way," I will swear in front of the Supreme Court that I've heard those words spoken to me by a "fan" wearing a UNC hat cocked sideways with the label still on it and pants hanging halfway down to his ankles. And before I'm accused of being a racist, this dude was white as the driven snow. If you like North Carolina because Michael Jordan played for them, then I'm allowed to like the Black-Eyed Peas because I think Fergie is sort of weird-hot. That's logical.
So there you are. There are five reasons why the majority of people in Oklahoma will be rooting for North Carolina Wednesday night. But you can rest assured I'll be tucked safely away in my house, wearing Duke blue and a smile, screaming my head off.
Go to hell Carolina, Go to hell!
Follow Travis on Twitter at @tstyles77 while he live-tweets the game on Wednesday night and more than likely winds up in Twitter jail.