FanTake is a place for you the fan to get your opinion out. If you are interested in writing your own FanTake, just send us an email.
As I'm sure we've all heard by now, Christian Laettner's iconic number 32 jersey that he was wearing when he took The Shot, sold for just a smidge under $120,000 a couple of weeks ago. Since then, the comments section on that story has produced theory after theory, the best of which is that a Kentucky fan bought it so they can piss on/burn/stomp on/generally take out their butt hurtedness* on it.
Being a Duke fan, one might expect that I would jump into the bidding fray for a jersey like that, if I had the money. Well, I don't have the money, mostly because Jim pays his regular writers in $10 Monopoly bills and bags of shredded cheese, and I'm still a "Fantake" guy, so basically I get an "Atta boy" and a new deadline.
But here's the rub. Even if I had the money, I don't think I'd spend it on a jersey. A good reason for that would be that if I got it, I'd immediately try to wear it, following the same logic in the movie "Like Mike" where Lil Bow Romeo, or whatever his name is, finds the sneakers Michael Jordan once wore and is thereby given magical basketball powers. In the process of trying to put on the Laettner jersey, it would, no doubt, rip wide open because I'm just a little past the weight Laettner was when he played, assuming "a little" equals 200 pounds.
Here's a list of things I've found on the Internet about what you could buy for $120k if you took a hard pass on the more tangible vestiges of Laettner's finest hour and wanted something a bit more…ahem…practical.
5. A loaded up Porsche 911 Carrera S — I really don't know that you need a reason for why this is on the list, but I'll give you one anyway.

After purchasing that bad boy right there, you should have just enough money left over to slap a Duke Fathead "D" right on the hood and spend the next 18 seconds of your life driving 197 mph by Chapel Hill giving them the finger.
4. A heart shaped loose diamond on Etsy — This one here is for the ladies. Look, we all know that your boyfriend/fiancé is going to let you down when it comes to engagement rings. He's going to walk up to you, get down on one knee, and open a box that contains three months of disappointment, because your boyfriend is a cashier at Walmart. So, you should pick this thing up for yourself, then tell him to take his ring back and trade it for a setting, boom goes the dynamite, happily ever after. Or, if he's not interested anymore, just spend that extra couple of grand you'll have on a setting and rock the biggest rock on your block, sister.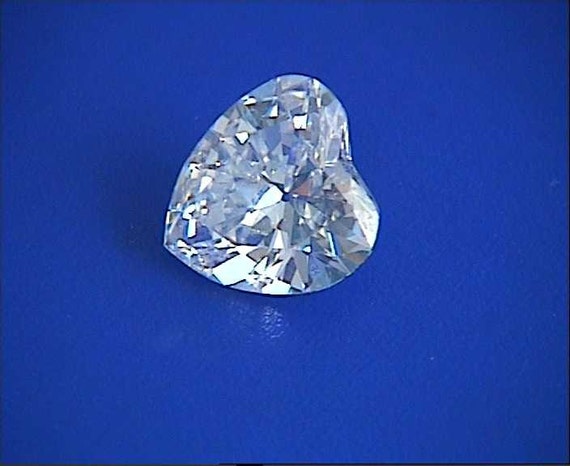 3. A sapphire iPhone case and a matching Rolex — This company has gone and taken 18 karat white gold and about 170 karats of sapphires, plus a few rubies and made the finest iPhone 5 case your otherwise Laettner jersey money can buy. But since you've got about $20,000 left over, you can also go buy a matching watch from Rolex to cap off your own personal 2014 Bling-A-Thon.
2. A Zafirro Iridium razor and a new Mac Pro with 4K monitor — What does every man (or woman) need for every other month besides Movember? A razor. And if you're still using those $5 a pack disposables that cut you up more than a butcher on prime rib, then you need the Zaffiro Iridium. Made out of meteorites and sapphire blades with titanium screws holding it all together, AND featuring a 20-year warranty, this is the razor of kings. Or people with disposable income. And what could go better with your new razor than a pimped out, brand new, Mac Pro with a 4K monitor? Nothing. Nothing would go better.
1. Five starters for the 2015 Kentucky Wildcats — At $23,900 apiece, ol' Cheatin' Calipari could offer his players something the competition can't: a financial leg up on the competition, and maybe some of the pride lost when Laettner let go of that free throw with 2 seconds left in the best game college basketball has ever seen…and the one where Duke won.
What would you buy with$119,500? Be sure to tell us in the comments!
Also follow me @tstyles77 on Twitter and be sure to tell Jim I should get to change my title to "staff writer."