FanTake is a place for you the fan to get your opinion out. If you are interested in writing your own FanTake, just send us an email.
November 26, 2007 — Duke Basketball secured their spot in the Associated Press poll top ten. The Blue Devils remained in the top ten for the next 122 weeks and 225 games, until January 6, 2014. It was a record surpassed only by none other than Coach Wooden and his Bruins.
A lot has happened in that time period. Castro retired as the dictator of Cuba, Phil Mickelson actually won a Masters, Apple released the iPad, and Lance Armstrong was stripped of all his Tour de France victories as well as one of his testicles.
I've put together a list of the top ten things that have happened in Duke's amazing run. You might not agree with them, but that's probably because you're wrong.
10. The world hit 7 billion people — I don't know about you, but this sort of answers the question "Why am I always in line somewhere?" It also answers why there continues to be people who actually root for those chuckleheads up on Chapel Hill. Some genius crunched the numbers, and on October 31, 2011, we cracked the lucky number seven of billions on this little Duke Blue and White terrestrial ball.
9. Oprah did her last show — Thereby ending a fantastic run of giving stay at home moms brand new cars and sex tips. In her place she left the ubiquitous Dr. Oz, something I've never forgiven her for.
8. Osama Bin Laden got smoked — Or at least we were told he did. Then, the idiots went and gave him the same burial they gave to Megatron in Transformers, which as we all know didn't work out very well. Taking his place among the globally recognized terrorist plotters? The geniuses over in North Korea, who so far haven't managed to bother anyone but Dennis Rodman and occasionally their neighbors to the south.
7. Conan O'Brien manages to have three shows — Late Night with Conan O'Brien, The Tonight Show, and Conan all aired during the Blue Devil's streak, although his stint on the Tonight Show only lasted seven months. Apparently, NBC decided that appealing to a younger demographic wasn't as appealing as appealing to their pocketbooks.
6. The United States got its first black President…twice — I get the first time. First black president, made history, that's great, and I mean that. But HOW did the man get elected to a second term? What exactly did he do in the first term that made people so keen to keep him around for a second? Maybe one of you folks with a political science degree that got you a job in a factory can help me out here.
5. Duke finally becomes a football school — Although they got trounced by Florida State in the conference championship, and although Johnny Football managed to literally piggyback off of his offensive line to throw for a touchdown in the Chik-Fil-A Bowl, Duke Football, led by Coach David Cutliffe, posted their first 10 win season and went to back-to-back bowl games in 2013 and 2014.
4. We all survived the end of the world — Or at least most of us did. I suppose there were a few who died on December 21, 2012 who would find this item in poor taste, but for the rest of us, we came through it like champs. There were no snowquakes, no hurriblizzards, or even any Sharknadoes.
3. Coach K steps into the Hall of Fame and into the record books — By setting the record for the most wins in Division 1 hoops, Mike Krzyzewski cemented his place as an immortal coaching legend in college basketball. And, with the way keeps racking them up, as well as a top-ranked recruiting class for 2014-15, he'll have the chance to break 1,000 in no time at all.
2. Breaking Bad happened — The story of Walter White, expertly told by Vince Gilligan, rendered on screen by the amazing Bryan Cranston, was a modern miracle of television, and ran from 2008 to 2013. I know most of us picked it up in the fourth season on Netflix, but the year I spent waiting for season five to end…it was pure torture. He knocked his way into my heart and briefly made me consider getting a degree in Chemistry.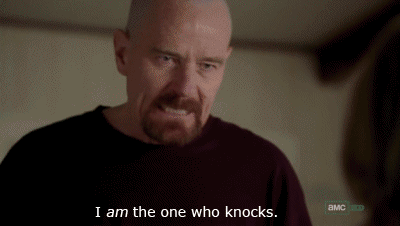 And obviously, as if there could be anything different in the top spot…
1. Duke – and Coach K – get number four — I watched Zoubek brick that last free throw on purpose. I got on my knees and gripped both edges of my television and prayed that Gordon Hayward wouldn't take the last shot. Then I prayed that he'd airball it. Then, after a brief panic attack in which I was WAY too close to the television to see what happened, I started screaming and running around my living room, which woke my wife up, who said, "Good job baby, I'm going to bed." It was an unlikely team, led by an incredibly talented coach, and it was a great year.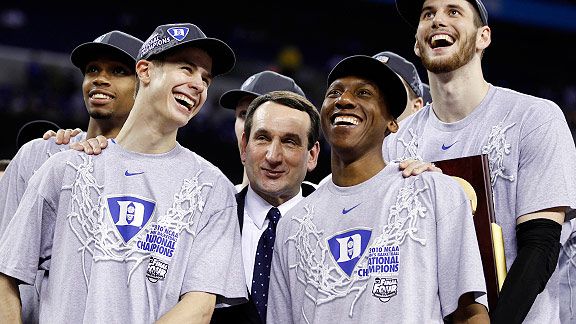 So there you have it. My top ten list of things that have happened while Duke was ranked in the AP top ten. Feel free to share your own in the comments!
You can follow Travis on twitter at @TStyles77.